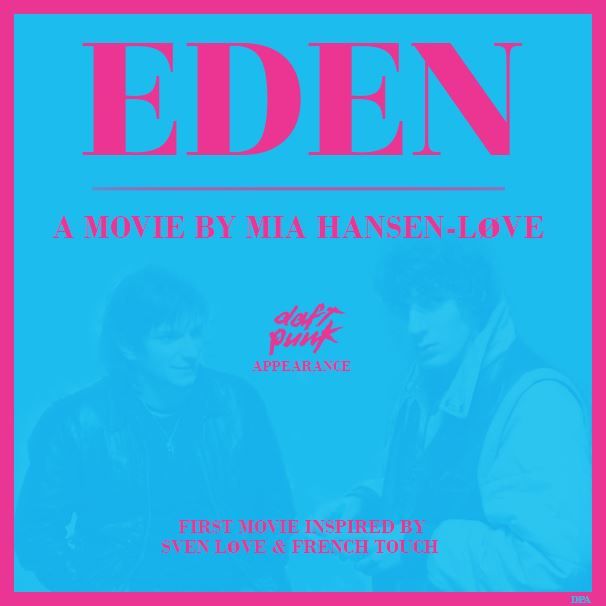 Il était une fois, la « French Touch »
EDEN, clin d'œil direct au fanzine du même nom spécialisé en 'House Music', est un long-métrage de 131 minutes baignant principalement dans le monde de la musique électronique dès la naissance même du mouvement/style appelé French Touch. Prévu pour le 9 Novembre 2014, la réalisation a été assurée par la talentueuse 'Mia Hansen-Løve' (Un amour de jeunesse, Le père de mes enfants), qui est également actrice, critique cinéma mais aussi scénariste du film avec son frère 'Sven Hansen-Løve'. La fratrie est puissante dans la famille puisque 'Sven Løve' est un DJ mondialement reconnu dans le milieu de la 'House Garage UK/US'. Il est résident de clubs les plus prestigieux de Paris comme le 'Respect' ou encore le 'Queen'. Depuis de nombreuses années il mixe pour la célèbre radio française « FG » (qui est représenté dans le film) avec son compère 'Greg Gauthier'. Il a également créé des soirées éminentes nommées « Cheers » dès 1996 avec son binôme… tout comme 'Paul', le héro du film. En toute logique, il s'agit d'une auto-biographie se positionnant dès ses débuts dans les nuits parisiennes jusqu'à aujourd'hui.
DJ, le plus beau métier de tous les temps
PAUL, un jeune homme qui a du mal à se retrouver sentimentalement, collectionne les conquêtes sans trouver de stabilité. Un succès soudain lui arrive avec sa moitié artistique engendrant une aventure vertigineuse mais aussi périlleuse dans les plus grands milieux de la capitale aux côtés des surdoués de cette scène génération musicale. En ce qui concerne le casting un choix réfléchi a été fait, nous retrouvons donc 'Félix de Givry'(Paul/Sven Løve), 'Hugo Conzelmann' (Stan/Greg), Roman Kolinka (Cyril), Pauline Etienne (Louise), Laura Smet (Margot), 'Vincent Macaigne' (Arnaud) et bien d'autres. Via le magazine TSUGI, l'aîné de la cinéaste en dit plus sur le déroulement du film :
Le scénario raconte les problèmes que beaucoup de gens de l'époque ont connu, la dépendance à la drogue, l'argent mal géré, l'étrange rapport au succès et la difficulté d'avoir une relation sentimentale stable dans un monde comme celui-là, un angle qui intéresse beaucoup ma sœur. Le film est en deux temps : l'âge d'or, la découverte de la musique et de la fête, la marche vers le succès puis le désenchantement et la nécessité de rebondir.

Sven Løve
Des robots très humains
Le personnage principal a pu voir naître des figures emblématiques de la 'House Music' en France tels que 'Cassius', 'Frankie Knuckles', 'La India', 'Sueño Latino' mais aussi des célèbres 'Daft Punk'. Ces derniers jouent d'ailleurs un rôle important dans le film. Après les acteurs américains 'Peter Hurteau' et 'Michael Reich' qui ont joué le rôle des robots dans 'ELECTROMA' (film réalisé par eux-même), ce fut le tour des français 'Vincent Lacoste' (Les Beaux Gosses, Astérix et Obélix) et 'Arnaud Azoulay' d'incarner 'Thomas Bangalter' et 'Guy-Manuel de Homem Christo' à visage découvert pendant leurs débuts. Les 'Daft Punk' ont d'ailleurs accepté de céder les droits d'auteur de plusieurs de leurs Hits pour un montant dérisoire après avoir pris connaissance du scénario. Un soutien plus qu'important puisqu'il a incité d'autres musiciens à participer généreusement à ce projet. Voici les mots du DJ :
Heureusement, les Daft Punk ont lu le scénario et accepté de nous aider. On entend trois de leurs morceaux dans le film, sans leur accord, le projet ne pouvait aboutir. Le film raconte l'histoire d'une génération qui est aussi la leur. Ils ont cédé leurs droits pour une somme symbolique et leur soutien a entraîné celui des autres musiciens et éditeurs. Finalement, le coût des droits musicaux est bien moindre qu'il aurait pu être.

Sven Løve
Souvenir de jeunesse
Sur la page du film se trouve un Flyer de l'époque représentant une soirée nommée « Alive Party » au 'Blues du Nord' de à Paris. 'Sven Løve' y était avec 'Much' et 'Daft Punk'. Il y a donc de forte chance qu'une scène du film présente ce moment unique. En attendant Novembre, voici à quoi ressemblaient les robots au moment de EDEN.
Once Upon a time, the « French Touch »
EDEN, direct wink to a magazine specialized to 'House Music' with the same name, is a 131 minutes film that is especially destined to the world of electronic music since the birth of the movement/style called French Touch. Scheduled for November 9, 2014, the direction was provided by the talented 'Mia Hansen-Løve' (Un amour de jeunesse, Le père de mes enfants), who is an actress, film critic but also scriptwriter of the movie with his brother 'Sven Hansen-Løve'. Siblings is powerful in this family because 'Sven Løve' is a globally recognized DJ into « House Garage UK/US » style. He's also a resident of Paris's most prestigious clubs such as 'Respect' or the 'Queen'. For many years, he mixes for the famous French radio named « FG » (which is depicted in the film) with his friend 'Greg Gauthier'. He also created prominent parties named « Cheers » in 1996 with his partner of all time… as 'Paul', the hero of eDEN. Logically, it's an autobiography that positioning himself since his inception into Parisian nights until today.
DJ, the best job of all time
PAUL, a young man who is struggling to recover himself emotionally, collect love knowledges and don't found any stability. A sudden success came to him and his friend, that generating a dizzying adventure but also perilous in the largest circles of the France's capital alongside geniuses of this generation's music scene. Regarding casting, a thoughtful choice was made, we can find 'Felix de Givry' (Paul/Sven Løve), 'Hugo Conzelmann' (Stan/Greg), Roman Kolinka (Cyril), 'Pauline Etienne' (Louise), 'Laura Smet' (Margot), 'Vincent Macaigne' (Arnaud) and many others. Via TSUGI french magazine, filmmaker's eldest said more about the progress of EDEN:
The script tells the problems that many people had at this time with drug addiction, mismanaged money, strange relationship with success and the difficulty of having a stable romantic relationship in a world like this, an angle that interests my sister. The film is in two parts: the golden age, discovering music and celebration, walking towards success and disenchantment, and the need to bounce back.

Sven Løve
Very human robots
The main character was able to see the birth of iconic figures of 'House Music' in France, like 'Cassius', 'Frankie Knuckles', 'La India', 'Sueño Latino' but also the famous 'Daft Punk'. Moreover they play an important role in this movie. After the American actors 'Peter Hurteau' and 'Michael Reich' who played robots in 'ELECTROMA' (film by themselves), it was the turn of the French 'Vincent Lacoste' (Les Beaux Gosses, Astérix et Obélix) and 'Arnaud Azoulay' embody 'Thomas Bangalter' and 'Guy-Manuel de Homem Christo' openly during the beginning of their career. 'Daft Punk' have also agreed to sell the copyrights of many of their Hits for a pittance after having read the script. A support more than important that inspired other musicians to contribute generously to this project. Here is the words of the DJ (brother's director):
Fortunately, Daft Punk have read the script and agreed to help us. We hear three of their songs in the film, without their consent, the project couldn't be a success. The film tells the story of a generation that is also theirs. They've assigned their rights for a nominal fee and support led the other musicians and publishers. Finally, the cost of music rights is less than it could have been.

Sven Løve
Remember youth
On the film official page, a Flyer is there representing a party named « Alive Party » at 'Blues du Nord' in Paris. 'Sven Løve' was there with 'Much' and 'Daft Punk'. So there is some good chance that a scene of this great moment will be in the movie. Meanwhile in November, here is what the robots looked at EDEN time.