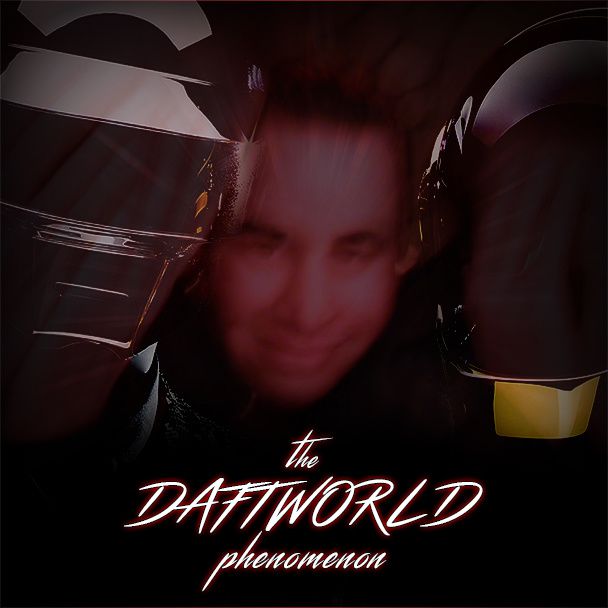 DAFTWORLD, a nickname that anyone who's interested from near or far to Daft Punk has ever heard or read somewhere. During a discussion about fakes, during a few Ed Banger nights, during an outing in a Electro Festival, into a Tsugi/Trax (french mags) article and more in social network talks. Between fans, musicians, journalists, clubbers… when we talk about Thomas and Guy-Man, he's everywhere. In France, US, around the world, to infinity and beyond. Whether teased or conversely, the most important thing for him remains that people speak about him. Venerated by some who see him as the chosen of the Revolution 909 thanks to his impressive collection or hated by others (he calls them 'haters') because of his many copied/pasted articles, pictures, videos, texts… without source (which earned him an anti-daftworld page, see the first documentary).
Then go back to 2005 (10 years) during the creation of our famous French Touch Forum where we had met Djamel. A nice young man whose fanaticism towards his idols was misunderstood by many members. For what? Because at first, it seemed like someone that lack of recognition or simply a person wanting to show by all means what he had the most expensive in his DAFT world, his helmeted Trophies. After many adventures he founded his DaftWorld skyblog (and a small forum) but this is his Facebook page that actually made known him with a surprising amount of followers. This allowed him to be followed by radio stations (french), TV channels, magazines, blogs, artists and of course by many fans of Daft Punk. Besides the robots follow his main page, they have spoken about it in a radio interwiew where he was invited.
To illustrate his Daftian richness, he called the young director Nicolas Capiaux. Where the first documentary LE FAN seemed very simplistic in the installation (but with more intimate shots), the second episode LE FAN 2.0 generated a completely different feeling. More successful, very good mounts with plans cared for a completely stunning final result. Note also that the music, between TRON Legacy soundtrack and the work of Jean-Michel Jarre, was made by François Breteche. All of this to demonstrate a serene passionnate, quiet, revealing with tenderness and delicacy a tiny part of his gold and silver treasure. Mr. Ouabdelkader even knew clearly explain the physical changes following a serious medical operation that all of his 256,000 followers were able to follow to the nearest kilogram. A huge work that has been proven because this documentary was relayed by the major French media.
Because yes, we confess, despite the countless fans that we could cross from the birth of the robotic duo, he's the largest collector of the work of Thomas Bangalter and Guy-Manuel de Homem Christo. For what? His gargantuan collection contains numerous extremely rare LPs and CDs (with dedications) of Daft Punk family but also of their respective labels, Roulé and Crydamoure. To this are added several DVD/Bluray editions, T-shirts, sweaters, jackets official and unofficial (just as interesting). Replicas of helmets, gloves, ultimate boxes and of course many figurines as expensive as prestigious. All of this with goodies and other rare elements from various countries sent by people close to the musicians (special mention to the Crydamoure medallion). Not to mention two big tattoos on shoulders, red logo from Musique Vol.1 (first best of) and divided helmets from Random Access Memories. Despite the colossal amount that he had to pay over years to acquire all of this, what has the most value in his eyes are two cans of coke used by Daft (in Radio FG residents) and a polaroid photograph where he's central to the duo. Do you want the list? See by yourself, all the details are here, good luck: