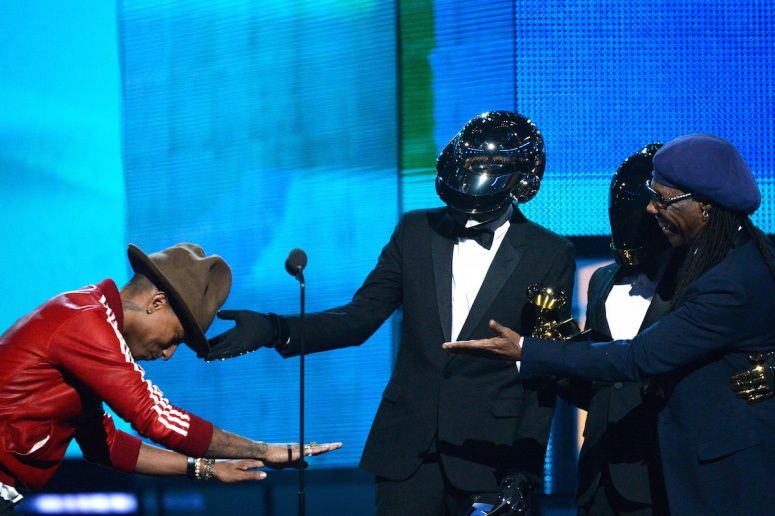 Daft Punk Unchained, the new documentary about the groundbreaking French DJ, production duo, now has a release date and a home for its U.S. debut this year. After being premiered on French premium channel Canal Plus this summer, movie producers kept their word and the documentary will air on Showtime Dec. 10 at 9 p.m. The film was created by BBC Worldwide and Canal Plus and aired on French TV in June. For a brief moment it was available online, but the production companies have been gearing up for a worldwide release, as well as, a DVD release back in France.
The film is possibly the most in depth look into the "Get Lucky" pair and how they have shaped electronic music as a whole. It follows the career arch from the duo's humble beginnings playing small parties in Paris, making music that was just a little bit different from what other people were creating to where they are today, winning six awards at the 2014 Grammy Awards, where they capped it off with an ultra rare performance.
It speaks with their many disparate collaborators and friends including Kanye West, Pharrell, Nile Rodgers, Todd Edwards, Michel Gondry, Paul Williams, Giorgio Moroder, Peter Lindbergh and Pete Tong.
Hervé Martin Delpierre directed the feature and co-wrote it with Marina Rozenman.
The documentary is 83 minutes long. Check out the trailer below to get excited once again that it is coming to the United States and hopefully from there the rest of the world.
Pour être informé des derniers articles, inscrivez vous :