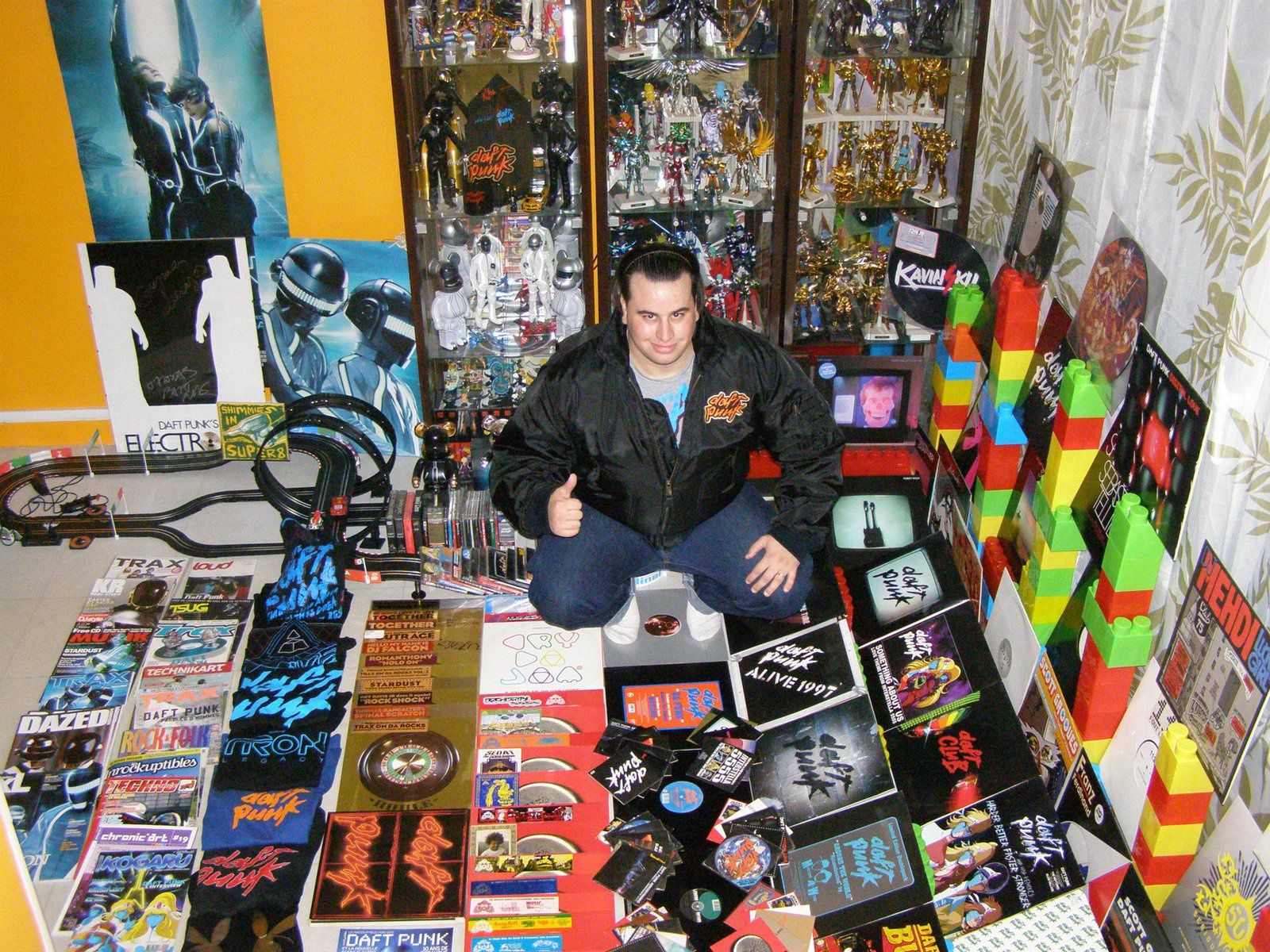 The world's biggest Daft Punk fan is Djamel, he is thirty two years old and is married with two kids. I lead with that just in case you were thinking he might be one of those basement hermit hoarders with no life outside of being the world's biggest Daft Punk fan. The short film documentary was made by Nicolas Capiaux.
In it Djamel speaks while lovingly caressing two old empty cans of regular coke and coke light. Miniature figures of Daft Punk collectables pop up on screen while the super fan's face is blurred and his soft French accent tells us the story. Superfan is also wearing a t-shirt that says 'Je Suis Daft'(I am Daft).
"The second time I met Daft Punk it was at Radio FG and I kept a souvenir. I went there but was not sure if I could get inside so I waited from 10 o' clock when people from the radio noticed me especially as I was wearing a 'homemade' Daft Punk helmet. Then at midday a guy from FG told me the good news. I was invited to see their interview at 5 am. I was walking on air I was so pleased. I could go in front of them and see them. And these cans testify. Two cans Daft Punk drank from, Thomas drinks regular coke and Guyman drinks light. It must be said that he just came through a heck of a diet. In fact the second time he saw me he told me: "you put on weight and I lose some."" Said Djamel
His collection of Daft Punk curios is pretty astounding, however not quite as astounding as his utter devotion to the duo. I guess when you love something you just love it.
Djamel has his own website 'Daftworld' which he launched in 2005. The site is a tribute to the famous duo and shares all sorts of updates on Daft Punk. Daftworld also has more than two hundred and fifty thousand followers on Facebook.
If you have half hour to spare check out the film of world's biggest Daft Punk fan for yourself.
Pour être informé des derniers articles, inscrivez vous :